Get It Before It's Gone
While I Was Out A-Walking...
What did I espy? To begin with, a Bank of America Vault Alarm.
I don't dislike Bank of America nearly as much as I did when he was in charge. So I thought that I would do them a service and take a picture or two outside their facility in Stamford CT, which is where I was a-walking.

What's wrong with this picture?

Perhaps it's a bit more obvious in this photo. I wonder if anyone will notice before it's too late.
And, to more or less end with, this sign.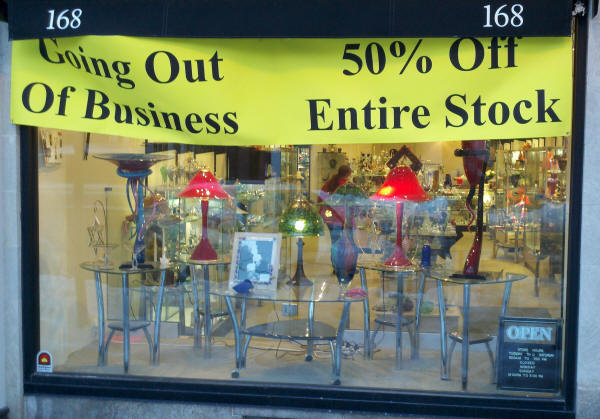 If you're a cynical New Yorker, you've seen signs like this everywhere, and they stay up forever. Unfortunately, this one is new, and is destined to remain, or so I was told, "a couple of weeks." The emporium in the picture is Artistic Hand Blown Glass in Stamford, CT. It's hard to tell from my photo, but all the items you see inside the store are arts made of glass. They are pretty and now they're cheap. I've actually shopped and made purchases here, despite my normal preference for the more linear arts. When I saw the sign, I went inside and made inquiries. Apparently, the owner died suddenly and his widow made the decision implied by the sign.
It's my understanding (which may well be wrong) that stores such as this take items on consignment from their creators, and then split the proceeds when something sells. If correct, then 50% is basically wholesale. Presumably the money will go to the artist and the fragile pieces won't have to be shipped back. But this is none of my business, and I mention it only to show what a bargain everything is.
This store is especially good for finding unique gifts. All the arts are handmade, and many were under $100 even before the sale. I rarely explicitly recommend commercial enterprises, and won't have the opportunity to do so for this one much longer. Sigh.