Guck?
That was the original title, and it is more catchy than "A Mystery Resolved." However, in the interests of Science, I'm afraid that I can no longer use the original.
One of my personal goals is to live forever, and in pursuit of that I conscientiously go for a walk every day as partial fulfillment of the need for exercise. I am usually accompanied on this expedition by a couple of gentlemen who probably share my goal, although they might simply be conspiring to prevent me from getting lost or damaged and are too kind to tell me. One of them, keen on nature, made an interesting observation: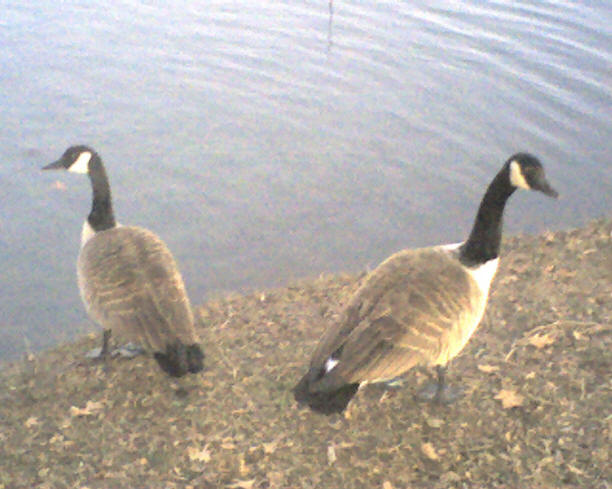 Geese!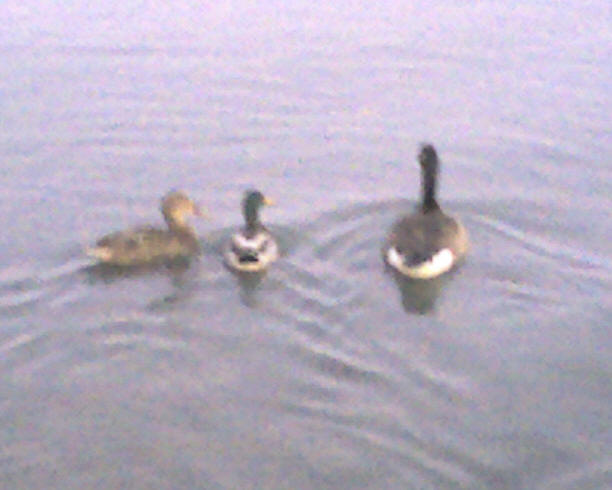 Ducks!
Gucks?
At least that was his theory. It's certainly plausible, and more fun to entertain than what turned out to be the truth, which was "Indian running ducks." I discovered this by interviewing a woman whom I've seen feeding the creatures at the periphery of the lake. I also found out that although she normally gives them corn, they also like a bit of blueberry muffin, the fare on the day of the interview.
So much for biological whimsy. I looked up "Indian running ducks" and found a picture much like the third one. The three above were taken with my Motorola Q instead of my real camera, and the difference in quality is substantial. However, you will note I have pictures rather than blank frames, the advantage of having a fair camera with me rather than a good one at the office.
---
| | |
| --- | --- |
| Update December 2022! Just to prove that old blogitems never die, I report here on a recent license plate sighting. I was hoping the owner would appear but no such guck. | |
---
NP: "The Deluge" - Jackson Browne