Let's Do The Time Sink Again
I've been a lax blogger recently. Not because of missing subjects, but rather excess life. We have the concept of "time sink," which I just now discovered in Wikipedia is a single word, complete with nerdish derivation:
A timesink is a term used to describe activities that consume significant time. A variant of this term is "time drain." Although it is unknown when the term was coined, it makes an analogy with `heat sink'.
If you had watched me this month, you would have seen I spent a lot of time circling the time sink's drain.
Even While Circling the Drain...
I had my cellphone camera with me, while being mocked by the helium wasters.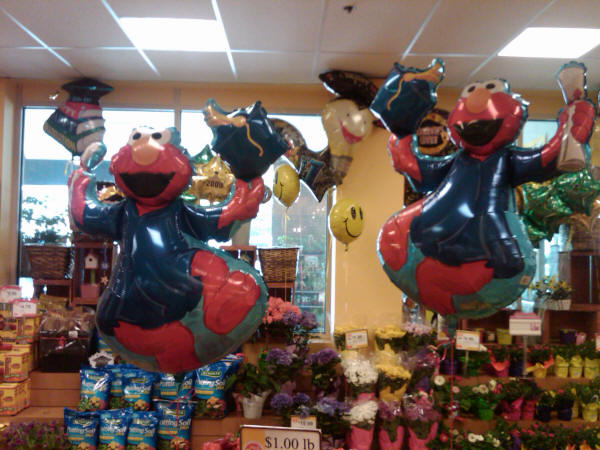 Grrrrrr.
EBay In Times Square
Part of the circling occurred in New York City, a wonderful place to walk even if the occasional construction site has a grit dispenser. One particular bucket loader operator felt that pedestrians could help remove construction debris if only he spread it on their bodies.
EBay was holding a "Price Is Right" kind of show, with billboard to match. It was right along my path, so I stopped by and planned to win whatever they were giving away. It seems they weren't standing around waiting for me to show up. There was a queue.

I didn't win anything: I'm not a line kind of guy. But Times Square sure is electric! Whole sides of buildings are bright screens now. And the area has been converted to a pedestrian mall. I had read about this and decided it would be a nightmare to attempt to negotiate the area in a car. But walking through it during heavy traffic hours my observation is that it's not much worse (if at all) than usual. In fact, midtown traffic seemed a bit light for the two standard weekdays I wandered.
Is That It For Now?
Yes.
---
NP:
"Take a Look Around"
The James Gang

TotD

Souvenir from the AEA (Aircraft Electronics Association) convention of 1995. That "spirit" comes and goes. I guess it was in need of revival in '95, but I honestly don't remember why.