The Mighty Mulch Mountain Meets Its Maker
My housemate has a nephew, a strapping young lad of 20 who stayed with us for a couple of months,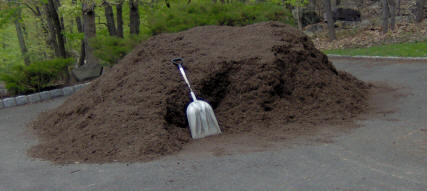 and who ruined your fun.
However, your loss is our gain. This year's heap'o'mulch, pictured at left and consuming a couple of parking spaces, was dispatched in only three weeks by his hands. Accordingly, there will be no 4th of July mulch contest. Even so, no blog series would be complete without the annual mulchograph, this year compressed into a shorter period, and with all the suspense removed.
---
The 2008 Mulchograph
| | | |
| --- | --- | --- |
| | | |
| 07 May 2008 | 13 May 2008 | 14 May 2008 |
| | | |
| 15 May 2008 | 28 May 2008 | 29 May 2008 |
---
Bye Bye Mulch, Hello Parking Space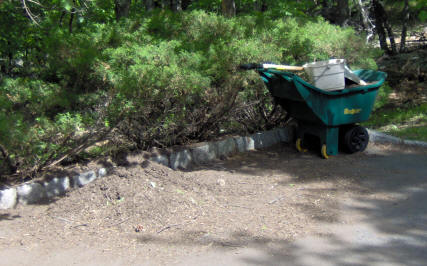 And so we find ourselves, at the writing of today's blog, with only a tiny residuum of mulch. ("For emergencies," I've been told.)
The division of labor here in RIKLBlog-land is concise. My housemate, who has a nephew, is the gardener. She spends months every year making the place gorgeous. Maybe I'll use the universal "flower" icon on my camera to demonstrate this later.
My responsibility is snow. Somehow the nephew always seems to visit when there's plenty of gardening to do, and, not so coincidentally, no snow to shovel.
---
NP: "All I Have To Do Is Dream" - The Everly Brothers