The New Openness Of Mr. Jobs
The Apple Developer Conference
If you're just an Apple customer rather than a software developer, next week's event is still of great interest. It is the occasion on which Steve Jobs will take the stage and offhandedly introduces some new world shaking products. Rumormongers stake their reputations on what it will be; a new generation iPhone is one of the almost certain introductions, and speculation about others runs rampant.
I'm not a developer, and not much of a customer, either. I'm typing this on a Mac PRO, but it's running Windows software. I have the 160GB iPod classic, but only because of the 160GB, not because it's an iPod. However, there are two Apple products I am getting close to coveting:
The iPod Touch: I get to play with one on occasion. The user interface is a thing of beauty. And I understand that if you talk to the new ones, they will play your requests!

The iPad. I'm not sure what it's good for, but the screen, with its paltry 1024 by 768 pixel resolution, seems so much better than a netbook (1024 by 600) that I wonder if the iPad LCD uses alien technology. I really need to work on digitizing my book collection.
Why Only Close To Coveting?
I'm this close to getting the iPod touch. Apple often doubles the memory capacity annually. Right now the maximum is 64GB. Even though I really need the 160GB of my Classic, I'd buy a Touch if they bump it up to 128GB. This year? Next year? I mong no rumors, but I'm eagerly waiting.
I'm not quite as close to the iPad. First generation and all that, too pricy for the larger memory, and a host of failings that will no doubt be remedied in the next iteration. Did I mention that the screen is beautiful?
One failing of most Apple goodies is the difficulty of replacing the battery. I can get over that with the Touch, but maybe not for the iPad. The Jobs obsession with thin remains, in my opinion, ridic.
The Clams of Cupertino
The Apple-watching world was startled a few days ago when Steve Jobs had an email dialog with blogger Ryan Tate. Yes, a dialog! He even answered a question. The media was agog over this development, suspecting that it might signal a new era of openness after the stunning loss (or leak) of a prototype iPhone in a bar.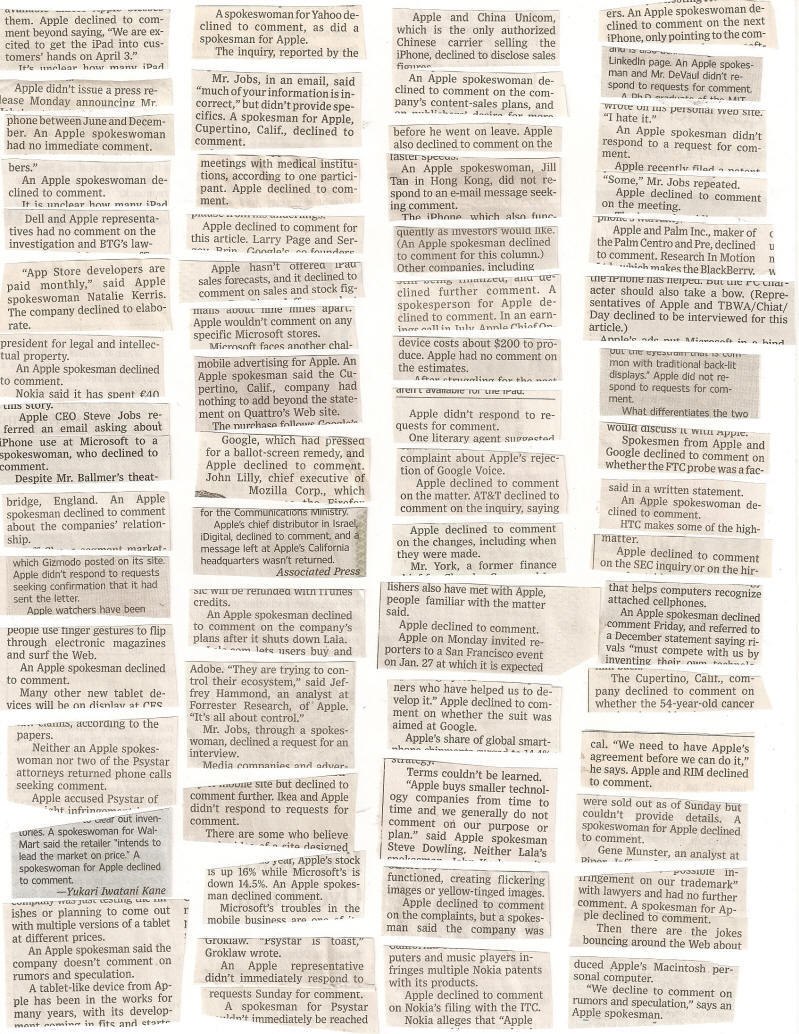 We'll see.
---
NP:
"Doctor Robert"
The Beatles

TotD

What Happened to the RCA?