Simplicity
Yesterday was the day we Americans honored our war veterans.
In November 1919, President Wilson proclaimed November 11 as the first commemoration of Armistice Day with the following words: "To us in America, the reflections of Armistice Day will be filled with solemn pride in the heroism of those who died in the country's service and with gratitude for the victory, both because of the thing from which it has freed us and because of the opportunity it has given America to show her sympathy with peace and justice in the councils of the nations…" (U.S. Government history of Veterans Day)
We honor our veterans in much the same way as we do other great Americans such as Martin Luther King and Christopher Columbus: We have parades and speeches, and there is no mail delivery. Because the 11th was on a Sunday this year, the honoring spilled over into Monday. I will spare you Richard's Theory of Holidays, although of course I have one. If by any chance you have your own theory, I assure you that mine is different.
But that's not the subject today, although this blogitem was prompted by the return of mail delivery. We are now in Catalog Season, which in addition to St. Patricks Day Season promises to give us many extra days of life, although some may have difficulty remembering those in the latter. Even one day without mail proves a heavy catch-up burden for our postperson, who, willy-nilly, is required to deliver unending, redundant, and irrelevant fireplace supplements.

We received several such today. One in particular was 400 pages long. It was heavier than all the rest of today's postal mail combined. As you can see, it's about twice as thick as my cellphone, and, I suspect, far less fragile. (I have already complained about how thin the cellphone is; I would happily accept more heft for a bigger battery and a lot more MP3 storage. But that's another story.)
So what vendor has 400 pages of items to sell? Quite a few, it would seem, because this wasn't a catalog, or at least disavowed that such was its nature. Rather, it was a magazine. Chockablock with ads, it also promised information on "the new little black dress, 6-ingredient holiday meals, the best products for dry skin" and the ever popular "stop feeling guilty: here's how." I'm sure that by diligent searching among the advertisements I'd be able to find all the touted articles, although the "little black dress" might not be obvious, and 6 ingredients, or at least their names, can't take up much room.
The holiday season with its relentless celebration and compulsive generosity is, I'm told, quite the fraught and often depressing experience. I'm not a good person to argue for simplifying one's life. Although I don't get frantic with holiday spirit, I do still have a mountain of spectrum analyzers and computer toys to deal with, and often declaim "I'd give anything to be bored." Even so, while watching those around me "celebrate" while dreaming of a day off, I can't help wondering about the irony inherent in receiving a 400 page magazine whose subtitle is "| life made easier |"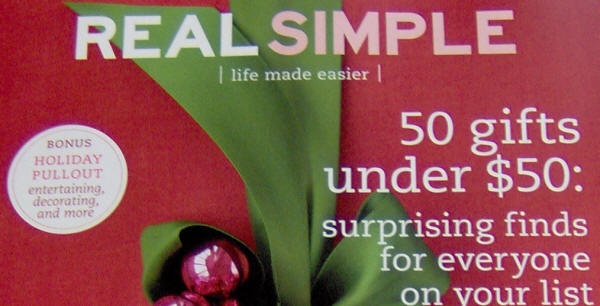 I personally think life would be easier with an empty mailbox.
---
NP: "The Warrior" - Patty Smyth