Jury Nullification
You know the drill. You've been summoned for jury duty. You're sworn in to uphold the law. You're told that the case involves some hackers who modified a public traffic warning/notification sign to read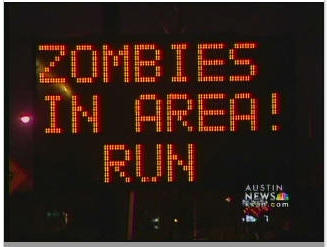 and asked if you could convict someone accused of perpetrating what is defined as a class C misdemeanor. (They have crimes for everything!) The question is:
Would you lie under oath just so that you could vote "Not guilty"?
Into my alleged mind popped the term "jury nullification." An interesting concept, one just vaguely remembered by me, but apparently well known and respected. The judge won't mention it when he gives the jury instructions after they've heard the evidence. But the indispensible Wikipedia has an article about it and I know more about it now than I did before I read about the Zombie Sign Hack.
As of this writing they haven't caught the "alleged perpetrators." I don't live in Austin, Texas, and so I won't be on this particular jury. Therefore, I can truthfully say that I will not lie under oath to keep those evil hackers out of durance vile.
Barbara Millicent Roberts
She's in big trouble right now. The Bratz are after her.
---
Special Advertising Section

Please buy this lovely blue Corvette ZR1!
---
NP: "Laugh At Me" - Sonny Bono