For Sale: 1990 Corvette ZR1
(Sold - Thanks for All the Inquiries)
VIN 1G1YZ23J1L5802825
FOR SALE BY ORIGINAL OWNER - $20,000 (KBB $20,620)
LOW MILEAGE - 32,000
MED QUASAR BLUE METALLIC / BLACK LEATHER INTERIOR
Click the sticker for details. Click on photo for more photos.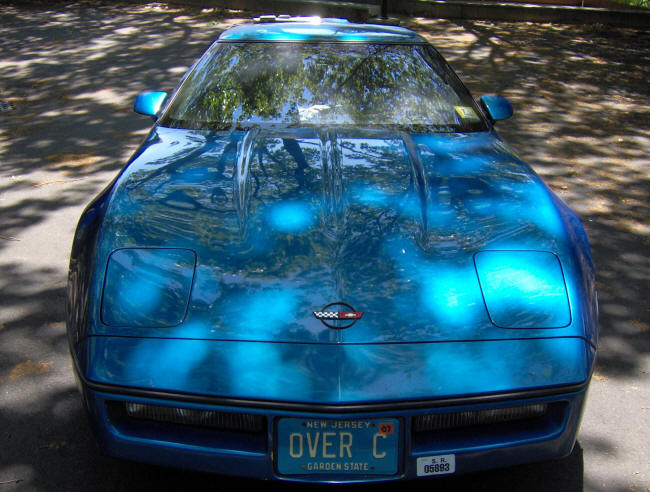 The ZR1 – Not Just Another Old Corvette
At the end of the '80s the biggest car news was the "King of the Hill" Corvette. The 'Vette had been pretty wimpy for a while - the latest version that came out in an '83/84 model (The "C4") had only 230HP, not much compared to the "muscle cars" of the '60s. Corvette fanciers, myself included, were disappointed by the C4's power, although I, at least, like the look very much and fancied the digital instruments. (That did not stop me from buying an '84, which I called "The Death Car" when I realized that it was unsafe to drive when the pavement was more than slightly damp.) So the excitement was palpable when GM announced the ZR1 would soon be available. It was to have a high-tech engine with 375HP, the same as my <sob>long-gone 1963 split window coupe, 327 fuel-injected 'Vette which I sold for nothing when I realized I could no longer afford to park it in NYC</sob>.
The ZR1 was initially so popular that it was selling for tens of kilobucks over list price. I made a deal with one of our customers who owned an auto dealership: He would sell me the car for list price if I would agree to pay him $20K(!) if I were to sell it less than two years after purchase. I had no trouble agreeing to this since I had no intention of "flipping" and, in fact, still own it to this day, about 18 years later. Unfortunately, I have little opportunity to drive it these days, and when I do, I drive it as I do the Prius, with a light foot and an eye on the gas mileage indicator. This is not to say that one needs to be unduly frugal with the ZR1, just that I personally drive that way all the time, and whine when anyone in front of me dares to use his brakes unnecessarily.
So here it is, an 18-year-old, beautiful, blue Corvette ZR1, for sale by the original owner:
Accident history: None of significance. A deer ran in front of me and its hoof hit the right front headlight, shattering it into an astonishing number of tiny bits. The headlight assembly was repaired, and the car itself wasn't even scratched, although there was one deer hair under the Corvette emblem on the front.
Collectability: I don't know much about this subject since I'm not a collector or restorer. When I had the battery changed I actually kept the original and think I still have it somewhere, although of course it's junk unless you need it for the serial number. All the original fuel injectors were replaced by a ham-handed dealer who couldn't identify an odd problem with the engine. I still have them, too, and the problem turned out to be something simple, although I don't remember what. All the original body and engine parts (except the right front headlight assembly and fuel injectors) are still on the car.
Condition:
Body: I am not one of those people who spends his weekends polishing the car. Rather, I'm the kind of guy who, when shown how dirty or dusty something is, explains that "after a few years it doesn't get any worse." Just as bad, the enormous rear tires on the ZR1 make it impossible to use a standard commercial car wash. So, if you're looking for a "cream puff," ask me to recommend a local bakery. On the other hand, the car has been well taken care of and garaged for the whole period, so there is probably nothing wrong that some buffing and waxing and tender care won't make right. That's the joy of buying this kind of car, right?

Interior: In perfectly reasonable condition except for the passenger seat. Remember that battery that I saved? Apparently there was some leaking acid on the bottom when the dealer gave it to me after replacement, and that got on the seat. As you can see from the photo, the seat has serious cosmetic issues, although they are all superficial - it works just fine as a seat!

Heating and Air Conditioning: Serious fans will remember that when the ZR1 first came out in 1990 it had a somewhat primitive heating system which was improved later in the model year. This car is one of the later ones with the improved system.

Gadgetry: I have not removed all the electronic stuff that is installed in the car, which is one of my company's Argus moving map displays, a couple of GPS receivers, a Valentine accelerometer, a radar detector, and, I think, a cell phone booster under a seat, although that's no longer in use. Since I don't know how long the car will take to sell, I've left this stuff in for the photos. Gives the car "character." All of this stuff (except the cell-phone booster) will be removed before sale. It's held in with Velcro and double-sided sticky tape, so other than removing a bit of glue it won't leave nasty screw holes anywhere.

Entertainment System: There is a problem with the rear passenger side speaker - it creates a loud and intolerable howling whenever the system is turned on. I haven't gotten around to taking the speaker/amp out and looking for the problem. At best, it's just a loose connection or something silly that I can fix. At worst the amp is bad and will cost a fortune to fix. (If that's the case, it can simply be disconnected; so far as I know the radio/CD player works just fine on the other three speakers.)
Gas Mileage: Certainly a valid consideration nowadays. The ZR1 has, for 375HP, a very economical engine! When I drive carefully I get about 20mpg on my daily commute, which commute I normally accomplish in the Prius at 50mpg. The EPA 25mpg highway mileage figure seems pretty reasonable; I've exceeded that on many occasions. In other words, this car is probably no better and no worse than a typical American family sedan.
Tires: I replaced the original tires with Goodyear GSC tires a few years after purchase. The GSCs were reputed to be safer in the rain. (I never had any problem with the ZR1 in bad weather, unlike the '84 "Death Car.") Although the GSCs had plenty of tread left on them, I purchased a completely NEW set of tires just last year. They are a Japanese brand (Yokohama? - I'll take a look later) and are less than a year old. So, except for the spare which is original and has been used for only a few miles, the car has NEW TIRES. (For safety, after all this time, you might want to get a spare spare.)
Owner Comments: Not that all the above aren't owner comments, but I thought I'd add this personal note. I love the ZR1, I just don't drive it enough to justify keeping it registered and insured. When it's sold, I will be Corvette-free for the first time in almost 25 years. The end of an era for me. (And, I am not promising not to buy a new Corvette if I'm overcome with nostalgia.)
Interested Buyers: The car is registered, insured, and safe and legal to drive. I take it for a spin periodically when I think it needs some exercise, and, of course, if you're seriously interested I'll be happy to give you a demo. The price is $20,000. If you want a photo of anything not already shown, please ask.
Legal Stuff: I am an individual owner, not a car dealer, not an expert, and am selling nothing but a used car with no warranty whatsoever. If you're a Corvette and ZR1 fancier, you probably know a lot more about buying cars than I do about selling them, and you are taking full responsibility for the car after the sale. Pretty much all you can count on from me is that I am the original owner and will tell you the truth to the extent that I know it and remember it. The ZR1 is a very fast and powerful car. Although you can kill or injure yourself driving any vehicle, this one gives you more than the usual opportunities to do so. I will not sell the car to anyone younger than 21. I reserve the right to cancel the sale or refuse to sell to anyone for any reason.
Contact: I'm hard to reach by telephone and far too easy to reach by email. The email alias for this sale is zr1@eventide.com . Please be sure to put "CORVETTE" in the Subject line since I get an enormous amount of spam and don't want to accidentally erase your correspondence. The car is located in Kinnelon (Morris County) Northern New Jersey.
Questions (and answers): If you email a question about the car, I will try to answer it below, so please be sure to re-check this page.
Q: What documentation comes with the car?
A: I have the owner's manual and the shop manual. I don't have the original "kit" that came with it but I may have some of the bits that were in the kit.
Q: [Update 28 February 2009] Are you sure you don't have that kit? You know it's very valuable!
A: No! I DO HAVE IT! I was rooting around in some old stuff and found it! Here are some pictures. Of course it comes with the car at no extra charge.