The Mallomar Scandal
Any Day That Starts With a Box of Mallomars
Is likely to be a good one. And indeed it was. I didn't log the exact date, but I did note, as I do every year, the beginning of Mallomar season. (Unlike St. Patrick's Day Season and the new Halloween Season, there really is a Mallomar season. I'm not privy to Nabisco's calculation, but, as explained here, it begins in September and ends in March.)
As I entered my place of striving, Rachel handed me an unopened box of Mallomars.* I assumed I was to open it, extract one or two, and return it, but no! It was to be mine, all mine. It was my intention to consume its contents without further contemplation, and certainly without committing a blog.
No Such Luck
Upon initial extraction, and in each subsequent verification run, I discovered that the modern Mallomar has changed, and not in a good way. Observe: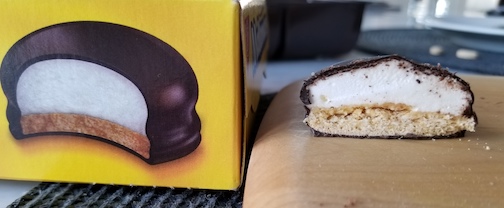 Clearly the marshmallow/Graham-cracker ratio has suffered in its current incarnation. I view the mathematical (and physical) denominator of the ratio as nothing more than a substrate for the marshmallow and chocolate dome. What, after all, is the point of eating a Mallomar? Surely not to indulge in Graham** crackers, which are easily procured in isolation by those so inclined, none of whom are my friends. Mighty Nabisco has its headquarters only a few miles from the box transfer location, and I could, I suppose, have remonstrated with them in person. Good thing that I didn't. Apparently they are manufactured in Canada, where they can't be purchased. My remaining options are to file a class-action suit, or, I suppose, submit them to the relentless shaming that only a blog can perform. I don't know any attorneys who specialize in cookie misconstruction law, so revel in shame, marshmallow-depriving blackguards.
Who is Sally Clark?
She is Petula Clark, now 85 and living in Switzerland, according to an unsought and brief biography. She said she had no idea why her father changed her name to Petula. It seems to have worked, though.
Every Picture Tells a Story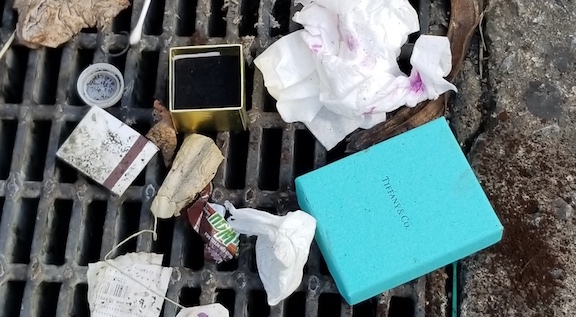 I have no idea what this story might be. I'm not about to, considering whose brand the box represents, offer a prize for the best story submitted. If I get any entertaining ones, I'll update this blog.
Adventure
I'm off to CES in Las Vegas to look at new gadgets. I hope this year to avoid the Hall of iPhone Cases and pay more attention to display devices. Along with the usual work-related activities, I have a notion about flat-screen teevees and real estate that will probably come to naught. Even so, there's always something interesting, such as last year's Pavlok, mood ring, and one-handed iPad holder. Not to mention new accessories for my drone. Who knows what wonders the 2018 CES holds? (Not yet self-driving cars, but soon. Very soon.)
---
* Thanks again, Rachel.