Repeat of a Sellout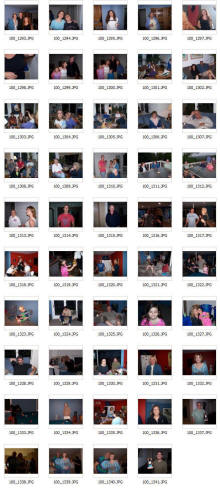 This year's July 4th Party was very simliar to last year's. So similar, in fact, that I feel justified in quoting myself, at least on the similarities:
I have a 4th of July BBQ every year. As nice as it would be to keep all the food for myself, I've noticed that having a selection of humans at a party generally livens it up. And, if they are selected carefully enough, it isn't livened excessively, which is also a boon. The pictures at the left are large enough to establish the species of the participants yet small enough to protect their privacy.
A fine time was had by all, or so I've been told. The potato salad was especially good, there was almost enough chocolate, the mood was festive, the pool had only water after everyone purportedly went home, and even the cleanup was performed in record time.
This year there were some differences. The most critical was this:
Rain
The forecast was verging on dire, at least in terms of outdoor BBQ activities. Worse, the rain promised to be concentrated later in the day, which prompted a number of early, i.e., on-time arrivals and concomitant "gotta go's" before the pluvial distribution engulfed my particular homeland. Tragically, this redistribution of attendees was not without consequence: We ran out of shrimp early. My apologies to all.
Wandering in the Dessert
Taking over in fine style from the shrimp-o-lack was an especially festive array of desserts, many fetched or manufactured by attendees.
Heatherian Chocolate Gloop was prepared in situ by its eponymous creator. I'm still polishing it off - there was just the right amount left over thanks to her foresight and an abundance of plates and cling wrap.

Gloria arrived with a ganache cake that had particularly yummy icing. I noted this with the adjuration to bring a smaller cake next year. "Oh, you didn't like it?" (Typical, right?) "No, a smaller cake increases the icing to cake ratio. Ideally they would make these cakes without any cake at all." I think it was she who also committed premeditated canoli, but I could be mistaken.

Debbie's Drizzle Bars came with a moiety of peanut butter and chocolate brownies. Miscegenation of an uncontroversial sort! I still have her PLUCO; the comestibles are no longer with us in coherent form.

Deb (not Debbie) provided the reified culmination of a pie discussion begun a week earlier. Deb is very seriously into making "easily alterable recipes" to suit her own (and perhaps common) dietary restrictions. She blogs on the subject at "Altered Plates" and the pie she brought, complete with an unguessed "surprise fruit" is described in her 05 July 2007 entry.

Steve fetched a large heap of his patented chocolate chip cookies. <Whisper>These cookies have commercial possibilities - they are incredibly good, last as long as I am able to contain myself, and have the right amount of chocolate.</Whisper> I don't let on about these to too many people; Steve has other activities to which he must attend.

This "bullet point" is reserved for any dessert-bringers I forgot or of whom I am unaware. Just let me know and I'll surreptitiously add your contribution to the list. That table was like, man, seriously packed!
"Surprise Fruit and the Mulch Heap" would make a great name for a rock band, but not as good, I think, as "China's Burning Coal Mines."
---
NP: "Wake Up and Smell the Coffee" - The Cranberries (A surprise fruit in themselves)