A Halloween Discussion of Reality
This short story begins with a bat's wings, or rather the lack thereof. You see, Terry (of spaghetti testing fame) bought a bat with wings so she could remove the wings to put them on a stuffed monkey. The monkey was for her friend's daughter to use while trick-or-treating.
I got the rest of the bat. It had glowing red eyes which didn't glow because, oddly, the bat didn't come with a battery. But it was cute, in an ugly sort of way, and furry. This is what it looked like: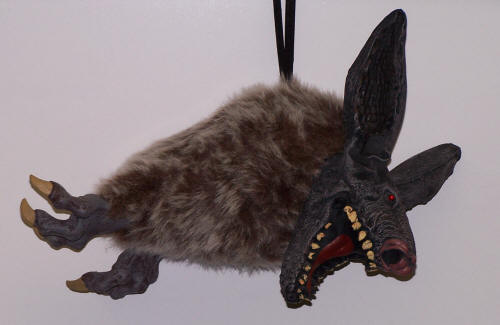 See? Cute!
It being Halloween, of course I took it on my daily walk. I was holding it in one hand and petting it with the other when a teenage girl came up to me and inquired:
"Is it real?"
"Of course it is"
She looked at me with remarkable skepticism. She asked to pet it. She called over someone who appeared to be her sister whose doubt about the bat's reality was even more palpable. They conferred. The other sister petted it, too. They both looked at me accusatorially and asserted "That's not real."
With impeccable logic, I pointed out that they both saw it. Clearly they wouldn't both imagine the same thing, would they? This leap of logic was beyond them. They walked away and would have been muttering but I don't think teenagers have mastered muttering at that age. In truth, I have no idea what teenagers have mastered. I suspect other old people have discovered this gulf as well.
---
Special Advertising Section
Please buy this lovely blue Corvette ZR1!

(The Mitsubishi has been sold, and the buyer (from South Dakota!) has it safely home.)
---
NP: "Crazy Eyes" - Poco