An Official Anniversary
Official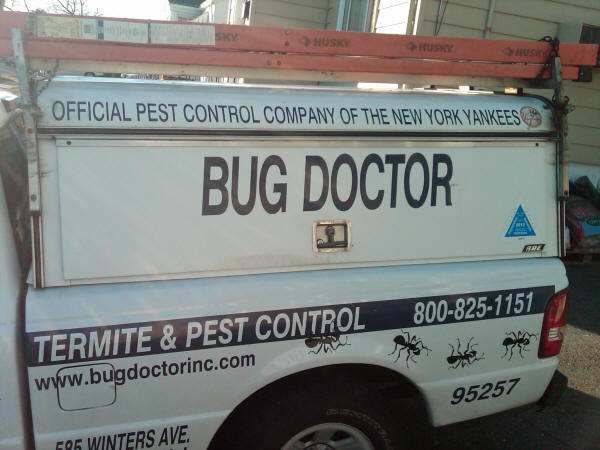 Spotted outside the Pod Babe's house the other day...
There are just so many comments one could make as a Yankee fan (or as not a Yankee fan) about the fact that they have an official pest control company. Red Sox - watch out!
Anniversary
I remember starting this blog in March, although the specific day isn't etched in my capital unit. Looking back, though, I see today is the day, 4 years ago, when I invited a new time sink into my life. For the first year, emulating my blog hero Andy Tobias I managed to post something every weekday that wasn't a national holiday. Since then I have posted as the whimsy struck me, and whimsy is not a quitter even when others are tempted.
One of my sillier projects is the "Chemical of The Day" bonus. In it I simply report all my chemical and element sightings in the Wall Street Journal. I've been a bit frustrated recently since the few chemicals in the news (carbon dioxide, methanol and the like) are repeats, and with tiny exceptions, I've sighted all the elements that are likely to appear. I hit a bonanza a couple of years ago, but that isn't likely to repeat, and surely I need more incentive to minutely scrutinize the Journal than the daily litany of financial disaster and scandal that has brought our economy to ruin. I've thought of one: Entities!
Entities
Another frustration in my alleged life is a different "collection" I've been unable to complete. I participate the the ARRL DXCC program, which entitles me to get a tiny sticker when I "work" a new "entity" on the ham radio, and, once a year, get my call sign printed in mice type in a directory that nobody reads except to look for their own call sign in mice type. My frustration here is with North Korea, an "entity" without hams (or pretty much any food group except brandy). Missing only the benighted DPRK, I'm more likely to complete the DXCC collection than to spot the remaining elements in the Journal. Therefore, I'm going to start another RIKL Bonus item with ARRL entities sighted as I otherwise pretend to read about the economy and all that sail in her. I'll start with today's anniversary edition of the Wall Street Journal. Most likely Greece will be among the first sightings.
---
NP:
"The Low Spark of High Heeled Boys"
Traffic

TotD

In keeping with today's theme...

I'm displaying this one out of sequence, so if I live long enough to get to it again, I will probably have forgotten and it will be the TofTwoDays.

I don't know if the company is still in business and I'm too lazy to check. The lack of an area code with the telephone number implies it's not a big outfit. I wear this shirt proudly on "special" occasions.